About this story
Author: Shayna Meliker
Date: January 2011
People: Sanele Ntshingana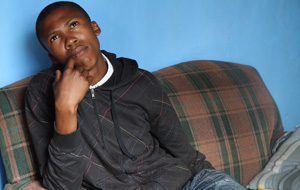 Data points: According to estimates made by the Human Sciences Research Council, 57% of South Africans were living below the poverty line in 2001. In the Eastern Cape Province that includes Grahamstown, it is 72%.
Poetry releases his "inner man"
By: Shayna Meliker
Sanele Ntshingana is a 17-year-old living in Grahamstown, South Africa. He writes poetry and is involved in Upstart, a youth newspaper project that began in 2007. A senior in high school, Sanele plans to attend college next year and major in journalism or marine biology.
Sanele has been composing poetry for three years, and said he only writes when he's inspired by something. He wrote this poem, "Hlalani, My Dwelling, My Domicile," about Hlalani, his neighborhood in the township of Grahamstown.
"I want people to see just a different image of what other people are going through," Sanele said. "We face different situations in different places and hence, in this poem, I reveal a different image and different perspective of what I think about my village.
"When I relax having nothing to do, I just take out a paper and a pen and I write. I love creativity and I just take what's in my inner man and I express it through writing. Every situation in life that I come across with which I feel like it has to be heard by people, I just write it down.
"And I write only when I'm inspired by a particular thing."