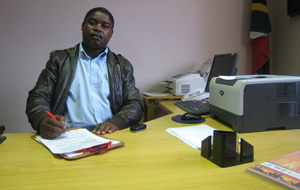 Citizens must have ID books in hand
By: Ashley Kang
"All ID pictures are very bad," Asanda Ncwadi says when visitors ask to see his "identity book." Before they're allowed into the bush, all boys must have these government-issued "ID books. "
The green, bar-coded ID books resemble a U.S. passport and provide each citizen with a number, similar to our Social Security card. The cards are supposed to be obtained by parents at the same time as birth certificates. Sometimes, though, a mother does not have proper documentation herself, thwarting the process.
According to the Grahamstown regional manager of the Department of Home Affairs Xolile Sibejele, "A baby cannot be registered without the mother's ID number."
To obtain an ID book for the first time, applicants must submit a certified copy of a birth certificate and two identical color photographs. Then fingerprints are taken by a Home Affairs official. Because many in the area are not registered, Sibejele says the office has begun airing public service announcements on the radio and running notices in the newspaper. Special letters are also sent during the start of school, encouraging students to be registered. "Students who are not registered but do so after this notice are able to jump the queue," Sibejele explained.
"Students also must have their ID books if they are going to sit for exams," he added.
It typically takes three months to approve and receive an ID book, but if the filing is done at birth, the book will be obtained within 30 days.
Asanda already had his book before going to the bush, but did share that while at school one day he lost it and was upset when he discovered there was a 20-rand charge to have it replaced, which is just over $3 in U.S. money. Sibejele believes this is too small of a charge, but Asanda was surprised at the cost.
"I told all my friends to be very careful," he said about losing the book. Now he rarely carries his ID book with him and says, "Instead I keep it in a very safe place."