About this story
Author: Nate Hopper, Danielle Waugh
Date: January 2011
People: Asanda Ncwadi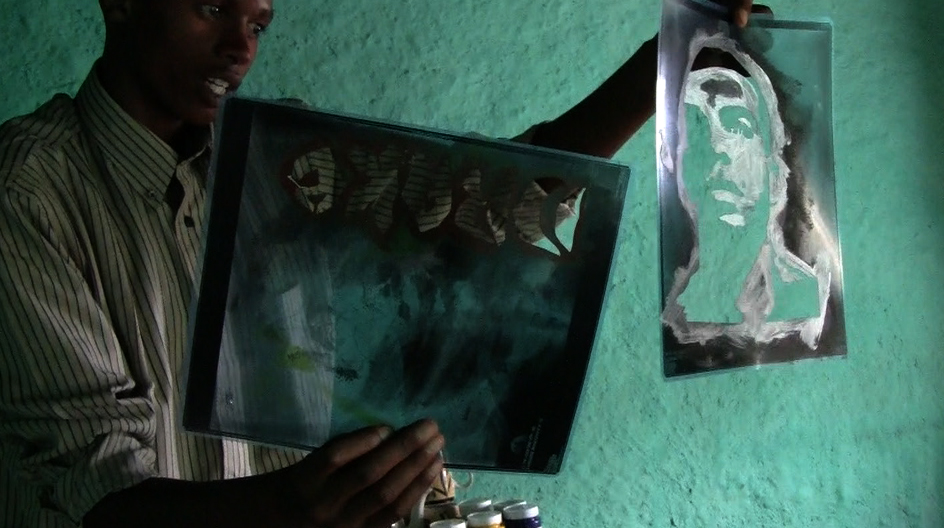 T-shirt maker adds personal touch
By: Nate Hopper, Danielle Waugh
In America, lots of people have "I [<3] NY" or pictures of Drake or Che Gueverra splattered on their T-shirts. But few of those shirts actually had paint splattered onto them — most were screen-printed by machines that pressed them out in minutes.
But in a small home at the top of Hlalani, a township outside of Grahamstown, South Africa, where there are no computers, Asanda Ncwadi uses self-carved stencils, fabric paints and brushes to meticulously make his own T-shirts. Each one takes about 15 minutes (including the time it takes for the wind to dry each one as it waves on his barbed fence).
Ncwadi's work has a wide range of designs: the outline of Africa; "I <3 SA," with each province outlined; Drake or Mao Zedong; and African tea pots.
With each shirt, he paints a signature logo on the back.
And while Americans regularly drop around $30 for their Drake concert tees, Ncwadi only charges 50 rand — about $7 — for shirts with a little more effort and love painted into them.