About this story
Author: Brandi Kellam
Date: November 2010
People: Paul Cousins
Fun facts: Cousins has visited Canada, Aruba and Mexico. But he prefers home and family. His philosophy: "Be kind to everyone."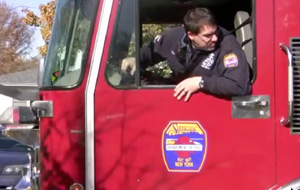 Loyalty burns strong for firefighters
By: Brandi Kellam
Capt. Paul Cousins has just taken the first bite of his dinner. The juicy, medium-well steak and large baked potato with melted butter are less than five minutes out of the oven. He's just swallowed a mouthful of steak and potatoes when a high-pitched sound suddenly resonates through the kitchen. Everyone at the dinner table jumps up, rushes to the garage, throws on their gear and piles into the large red truck. They have less than three minutes to decide how they will handle what could be a raging house fire or a false alarm.
"We put 26 people at a fire usually in three minutes," Cousins says. In the city of Syracuse it takes about that long for firefighters to arrive at the scene of a call. Firefighters in Syracuse answer about 20,000 alarms a year. Firefighters at Station 6, where Cousins works on the South Side of Syracuse, answer between 20 and 50 fire calls a week.
"You never know how busy you're gonna be or how quiet it's gonna be … rarely do we sleep all night," Cousins says.
Sleep, however, is not Cousins' priority as a firefighter, what he calls one of the best jobs in the world. "We go to a lot of fires. … We get to help a lot of people."